Raise the Roof for Merrick House
Come to our fundraising concert with Dublin Gospel Choir, Thursday 20 April 2023 in Rathgar.
Join us in Rathgar on Thursday 20 April for a musical fundraiser!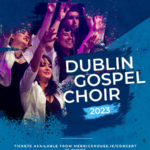 Help raise much-needed funds for Merrick House, Terenure, at an exclusive concert presented by the renowned Dublin Gospel Choir.
Taking place at 8pm on Thursday 20 April 2023 at Zion Parish Church in Rathgar, tickets are available to purchase online.
Alternatively, to buy tickets in person, drop into Merrick House, Eaton Road, Terenure from 10am – 2pm, Monday to Friday.
2019 marked the 50th anniversary of Merrick House in Terenure
In October 2019, we welcomed the Dublin Gospel Choir to Zion Church on Bushy Park Road to celebrate our 50th anniversary.
The concert featured a wonderful upbeat programme of Gospel and Soul music. We had a fabulous evening with several hundred friends and neighbours supporting our celebrations.
Check out some pictures below to get a flavour!
We would like to say A BIG THANK YOU to Zion Church for their hospitality and to everyone who supported us on the night and who continue to support us throughout the year.